Green Office
Rietumu Capital Centre, built in 2008, is one of the first and largest energy-efficient office complexes in Latvia. In recognition of the Bank's efforts and commitment to further improving the office environment, the Bank's office was awarded the WWF Green Office Certificate in 2022.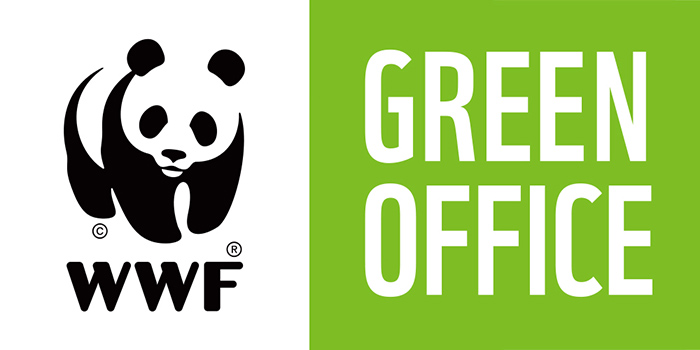 WWF – World Wide Fund for Nature – associated partner in Latvia
The Green Office Certificate attests that we are developing a responsible and sustainable attitude to resource management, employee relations, and areas such as electricity, transport and mobility, procurement, food, waste and waste management, water, and biodiversity.
Electronic communication and circulation of documents
An extensive use of digital innovation in our daily work allows us to significantly reduce paper consumption for office purposes and improve communication and information exchange between the various departments of the Bank. These technologies also enable the Bank's customers to receive all the services they need remotely, without having to visit the Bank's offices.
The Bank continues to implement solutions to reduce the use of paper by switching to signing documents electronically, digitizing customer documents and moving processes to the digital environment.
Optimized logistics
Almost all employees of the Bank work in the same office, which significantly reduces the need for business trips. The Bank communicates with customers and business partners online whenever possible. To support employees who wish to commute to work by bicycle or scooter, the Bank provides the necessary infrastructure. Changing commuting habits by switching to environmentally friendly means of transport is one of the Bank's objectives.