Effective and green office
Rietumu Banka is located in one of the first and largest "green" office blocks in Riga and Latvia. This modern building, that was erected between 2002 and 2008 using ecological materials is equipped with state-of-the-art environment control systems. This allows creating comfortable working environment with lowest possible energy consumption.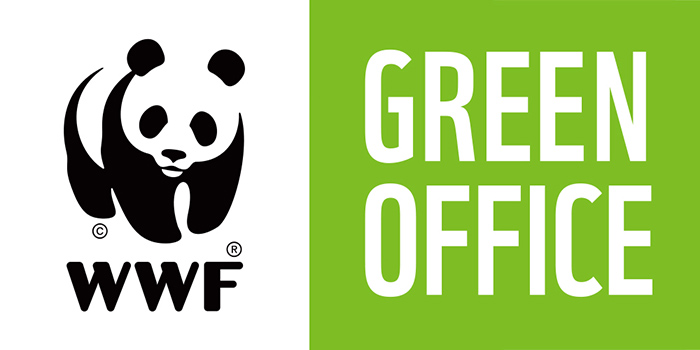 Pasaules Dabas Fonds - Associated Partner in Latvia of World Wide Fund for Nature (WWF)
In 2022, the Bank's office complex was awarded the Green Office certificate by the World Wildlife Fund, confirming the measures implemented by the Bank so far and the commitment to further reduce the environmental impact.
The Green Office certificate is an approval that we are building a responsible and sustainable approach to resource management, employee relations, electricity, transport and mobility, procurement, food, waste and its management, water as well as biological diversity.
The Bank pays close attention to all these areas and will continue work on each of them also in the future to attain its sustainability goals.
Electronic communication and document workflow
Wide application of digital innovations to routine tasks supports significant decrease of paper consumption while improving communication between different units of the Bank. The same innovations allow customers seamlessly use all the Bank's services without having to attend the Bank personally.
Improved logistics
Most of our colleagues work at the same office, thus making business trips much less necessary. The Bank also provide all the required facilities for on-line meetings for the same reason. The Bank also supports employees, who commute using bicycles or scooters, by providing the necessary infrastructure.
Carbon footprint
The Bank contemplates implementation of carbon footprint calculation tool to evaluate the impact of its business activity. Our potential partner in this project is one of the world's largest data analysis companies.