Mobile applications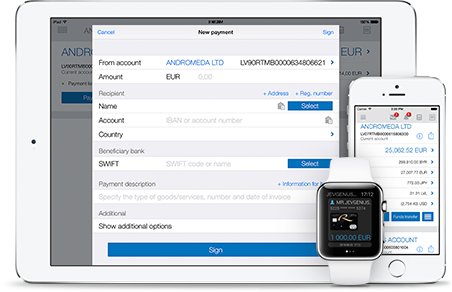 Rietumu Bank mobile applications provide safe and comfortable connection to the Bank
All major banking operations such as wire-transfers, foreign exchange, accounts, cards, deposits, loans, investment portfolio balances and statements are easily accessible though the App.
Mobile DigiPass
Mobile DigiPass – a virtual authorisation device inbuilt in the mobile version of the Internet bank which allows to sign orders of any complexity.
Mobile DigiPass secures the high reliability of transactions and other operations.
Mobile DigiPass is unique and is installed on one specific device.
Mobile DigiPass has two operation modes
"Identification" Mode – for low-risk operations when funds are not changing the owner: checking balances, log-in into the system, top-up the cards, foreign currency exchange, etc. In this mode, Digipass generates one-time passwords that are valid for a short period of time.
"Signature" Mode – for signing the high-risk operations, such as external payments or adjustments to key payment details. To calculate such signature, the key parameters of operation have to be passed to the Digipass: amount, currency and beneficiary account. Based on these parameters, Digipass will generate unique signature that can be used only for this operation.
Download mobile app
How to receive the Mobile DigiPass?
Mobile DigiPass is issued to all customers upon the establishment of cooperation.
New or additional Mobile DigiPass can be ordered in the iRietumu Internet bank or in the Bank's office.
Handbook